Showtime Sound LLC Helps Honor 12,600 Graduates at University of Maryland's Combined Commencement Ceremony
July 8, 2022 / Brooke Faulkner / News
May, 2022
COLLEGE PARK, MD – How do you bring together 2 venues, 1 university-wide ceremony, and 9 individual school ceremonies? One might say the same way you earn a college degree – with dedication, undeniable skills, clear communication, and a great support system! techfrederick member, Showtime, was invited to partner with industry leader VPC Inc., along with the Office of Special Events at University of Maryland and Design Foundry to provide production for their combined commencement ceremony this past May. By integrating Showtime technology with in-house systems, these teams were able to ensure a flawless ceremony honoring 12,600 graduates at this momentous occasion!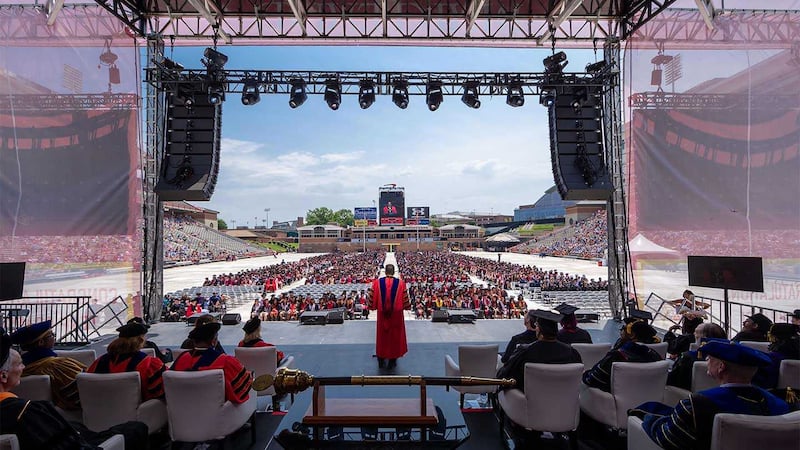 Liam Farrell of Maryland Today described the event, "In the beginning of a new tradition, the graduating classes of Summer 2021, Winter 2021 and Spring 2022 came together in a sunshine- (and sweat-) soaked Commencement ceremony on Capital One Field at Maryland Stadium this afternoon to celebrate their academic and personal achievements during unprecedented times." Farrell went on to note that since the usual Winter 2021 commencement ceremony was canceled as a result of the COVID-19 pandemic, "The outdoor event honored 12,600 members of the graduating classes, including 9,000 bachelor's, nearly 2,700 master's and about 900 doctoral degree recipients."
Long before robes and caps were donned, the University of Maryland Office of Special Events reached out to VPC Inc. to provide production services for the big day. VPC Inc. of Reisterstown, MD is a market leader in front-end production management and content creation. Their skills and services have garnered awards as a full service production company. Celebrating 30 years in business (July 7), VPC Inc. is known for creating compelling video content, while offering live-event production and expert stage management and show direction. After identifying a unique set of requirements for the commencement ceremonies (both university-wide and individual schools and colleges), VPC knew they needed a partner they could rely on to fully execute the client's vision. Due to the scope and scale of the event, they invited Showtime Sound LLC to round out their team for this special event.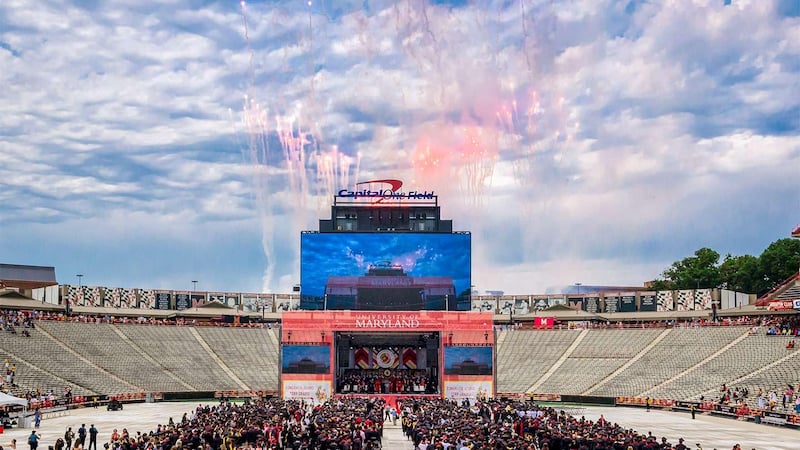 No event is without its challenges. Showtime Sound's Director of Operations and Production Brian Linnemann detailed the scenario explaining, "The two separate venues housing the ceremonies (Maryland Stadium and Xfinity Center) were drastically different. One had built-in infrastructure, while the other needed to be built from the ground up." Linnemann elaborated, "We relied on our knowledge and experience in utilizing existing building systems, but also on our ability to efficiently build a temporary staging and rigging infrastructure in the middle of a football field." This was not the only opportunity to excel. "We integrated Showtime's audio, lighting, and LED walls with the venues' existing wealth of technical resources to maximize the production value for the events," Linnemann noted.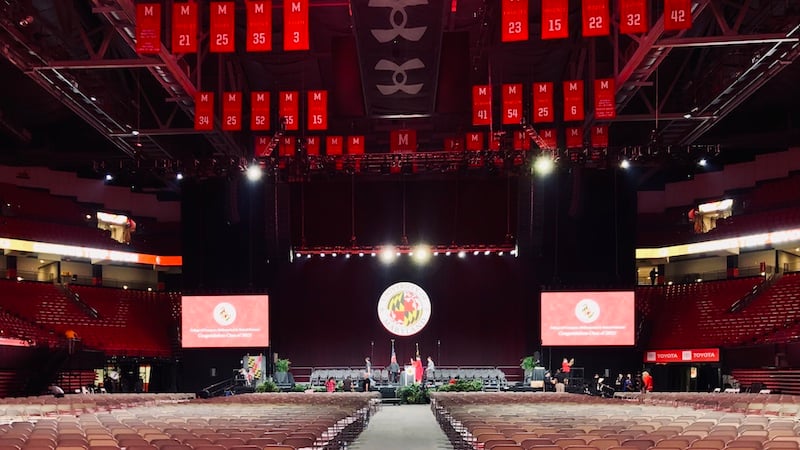 It was a large undertaking, and Showtime knew exactly how to best address the event needs. Utilizing his background in collegiate events, Linnemann went to work. "We were able to team up with University of Maryland's game-day staff for cameras, switching and playback," he explained. "With bi-directional ties into the house systems, we sent audio to the house while they returned playback and IMAG content to us." This meant communication was more important than ever. "To keep everyone on the same page, we provided drafting and rendering services for both venues. The drafting showed technical and logistical features, such as floorplans with seating charts, as well as technical paperwork like rigging, scenic and signal flow between the multiple systems. With the addition of 3D rendering, this ensured everyone was on the same…plot!" Linnemann quipped.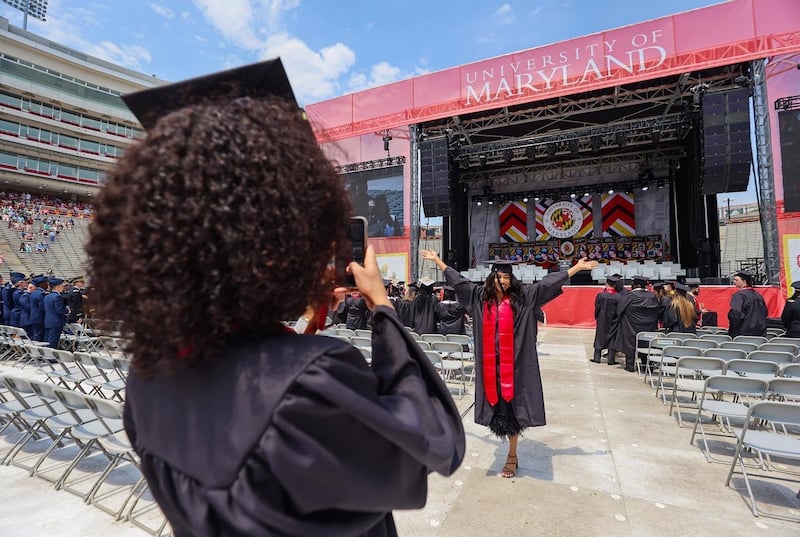 As always, Showtime Sound relied on their outstanding manufacturer partners at L-Acoustics, Absen Inc., and Tyler Truss Systems, LLC to ensure a successful event. Linnemann remarked, "Even our brand new Astera AX2 fixtures were honored guests, fitting right in with the ceremony's distinguished speakers!" Having trusted brands like these helped Showtime ensure this remarkable occasion went perfectly.
It's safe to say that for the many accomplished graduates, and for this exceptional production team, all of the hard work paid off! It was a beautiful event honoring University of Maryland's graduating classes of Summer 2021, Winter 2021, and Spring 2022. Linnemann confirmed the ceremony's success, noting, "The reviews are in and we are already looking forward to next year." Congratulations and Go Terps!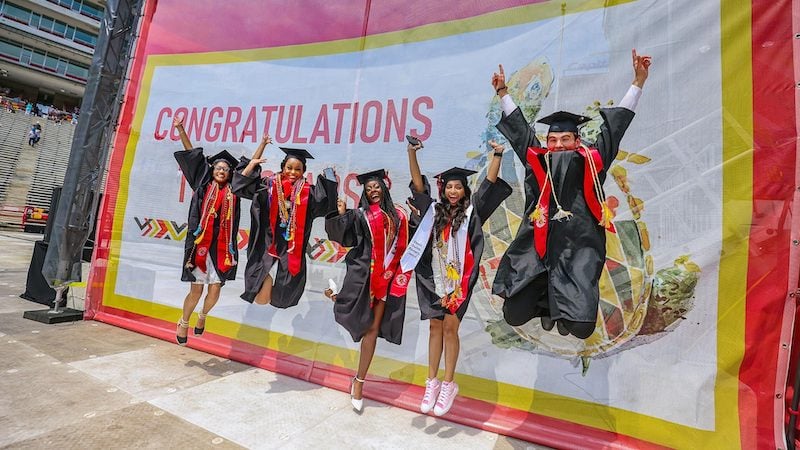 *Photo Credits – John T. Consoli, University of Maryland, Brian Linnemann
*More details on the University of Maryland Commencement can be found at https://today.umd.edu/go-fearlessly-forward